According to The World Economic Forum, we won't reach gender equality for 170 years. This is far too long to wait and it is the driving force of this year's International Women's Day. The campaign encourages us all to make a difference amongst our communities and #beboldforchange.
As I walked past my local church, St Pauls Old Ford on Sunday I noticed that they were hosting an event called Vox: Women in Leadership. With the #IWD2017 campaign in mind I went along. Built in 1878, St Paul's gives the appearance of a traditional church from the outside but once you enter it is like The Tardis. The back of the building has been preserved and boasts a beautiful painted ceiling the colour of the sky looking down over the alter.  After a threat of demolition in the 1990's the church and local community gained funding from the National Lottery and many other donators to become a centre for local people. The architects have cleverly built a box inside the church which has generated a flexible space and is used by the wider community including a gym for people with disabilities or long term health issues.
I was welcomed by Jessica, a youth worker intern and immediately felt calmed by the effect of the lit candles flickering against the blue mural ceiling and I settled into a wooden pew at the back. The event began with the audience enthusiastically singing three modern hymns, I didn't know any of the tunes and being on my own I felt a bit awkward. I mouthed a few words and the woman next to me was singing loud enough for the two of us so I got away with it.  Jessica and Paige (from the youth group) introduced a panel of the three women and asked them some pre-written questions before opening the questioning to the audience.
The Panel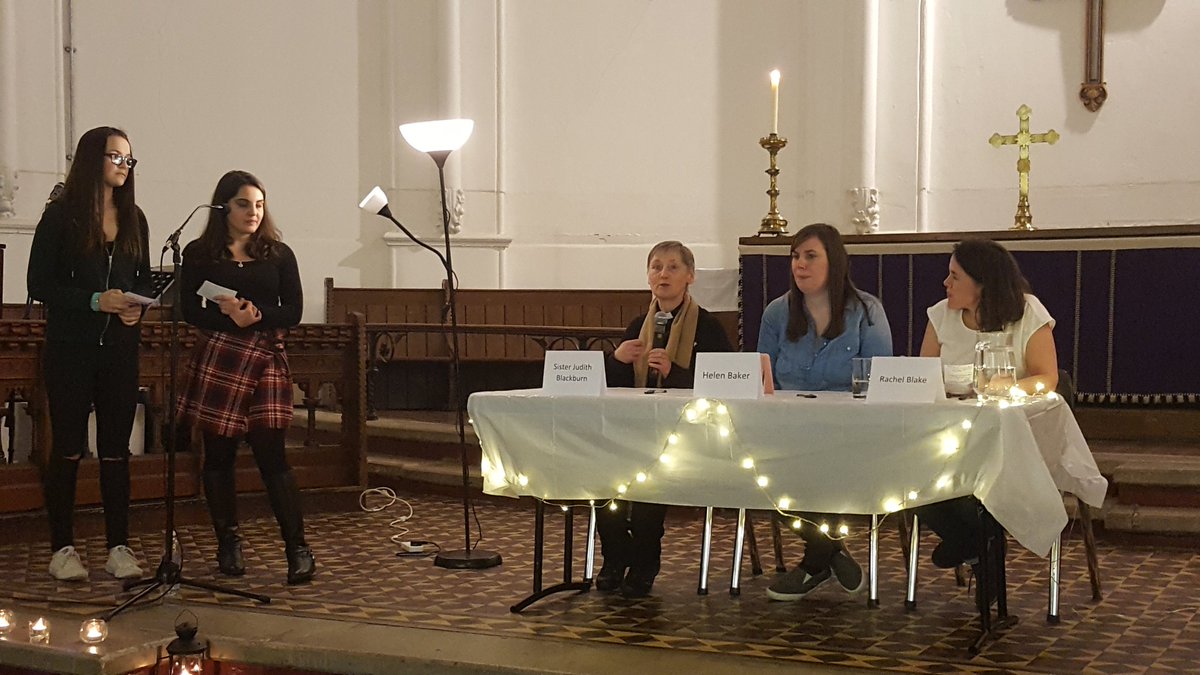 From left to right Judith Blackburn, Helen Baker, Rachel Blake (photo courtesy of Vicar James Hughesdon)
The Reverend Sister Judith Blackburn SSM is a Priest at St Peter's, Bethnal Green and was ordained in 2002. She has been a member of the Society of St Margaret at St Saviour's Priory since 1990 and previous to this, Judith was a lawyer working in various magistrate courts.
Helen Baker is a Youth Worker in Surrey and has been working with teenagers at the group since 2010. Helen heads a large group of volunteers.
Councillor Rachel Blake, has been a London Borough of Tower Hamlets Councillor for three years and a Cabinet Member for strategic development for one and a half years. Her focus is on housing and helping young people into jobs.
The Quotes
The discussion was engaging and the panel shared valuable advice on being or becoming a leader. As an Executive PA I never considered myself a leader, I've spent many years working for CEOs at different companies and I assumed a leader is someone in a senior position such as a Board Director. Listening to these women who work in very different leadership positions made me realise that everyone can learn leadership skills and utilise them at work and to support friends and family as summarised by Helen "A role is never too big or too small".
Historian Nancy Koehn summaries the qualities of a leader in this Harvard Business Review short video. She says "Effective leadership skills can be learned, great leaders are not born, they are made. Ask yourself what is the moment that demands my leadership? the individual has to decide to embrace the cause and get in the game"
This Women in Leadership event has taught me that I can identify my leadership skills and develop these.  Judith, Helen and Rachel summarise their leadership journey as life changing, challenging and they consider it a responsibility.  Rachel goes onto say that we need men in power to be on our side as "If we don't allow women to come into leadership roles, we won't get a full view". Sister Judith closed the discussion with "If you have a passion, be in tune with your calling and don't worry what others think".  I took comfort in that statement as we can get weighed down by the demands on our busy lives and lose focus on what is important to us and those around us. I think a good leader helps others identify their path in life and encourages them to focus on being bold to achieve their goals.